The Mississippi Access to Care Center is the designated LCA(Local Contact Agency) to support the resident's expressed interest in being transitioned from the nursing facility to community living.  Once the LCA has been notified of the resident's request, information about community living options and available supports and services will be provided to the resident or their responsible party.  The TCR (Transition to Community Referral) Form is the tool used to initiate the process and identify services needed for a successful transition. Please submit all referrals to MACCenterTCR@mdhs.ms.gov
Contact:

Sponjetta Jones
MAC Center Manager
Direct- 662-537-2105
Fax- 662-378-9574
Mississippi Access to Care (MAC) Centers are welcoming and accessible places located across the state where people can obtain unbiased information and assistance in locating services and supports.  MAC Centers provide a central source of reliable and objective information about a broad range of programs and services by helping people understand and evaluate the various options available to them regardless of income or eligibility for publicly funded long-term care.
MAC Specialists, located in Greenville, provide assistance over the telephone, within a person's home, or in another convenient location. All assistance is free and confidential.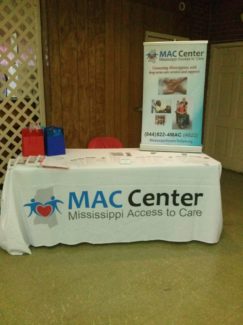 OUR MISSION
MAC Centers aim to help empower people to make informed choices and to streamline access to services and supports. MAC Centers help older people and people with disabilities- along with their families and representatives – secure needed services or benefits, live with dignity and security, and achieve maximum independence and quality of life.
In conjunction with Three Rivers Planning & Development District, Inc., the MAC Center, located at South Delta PDD serves 14 delta counties: Bolivar, Carroll, Coahoma, Holmes, Humphreys, Issaquena, Leflore, Panola, Quitman, Sharkey, Sunflower, Tallahatchie, Tunica, and Washington